Jonathan has loved animals ever since he was a child. Jonathan received a Bachelors in Computer Science in 2006 and a Masters in 2007 from Kutztown University. Upon graduation, he worked for Lockheed Martin in King of Prussia, Pennsylvania for 4 years. In 2011, he accepted a job with Microsoft as a SharePoint consultant, which is where he is currently working. Although happy with his technological career, he chose to branch off and pursue his passion for animals.
In May of 2014, Jonathan started volunteering at the Chester County SPCA where he walks, trains, and takes care of the shelter dogs. In the fall of 2014, he was accepted into Canisius College. In 2016, he received his second Masters in Anthrozoology, learning all the ways humans and nonhuman animals interact. Jonathan focused his studies on dog shelters, rescues, and fostering. Combining his experience from the SPCA and his formal education from Canisius, he realized what he wants to accomplish in life. Jonathan founded PA Dog Rescue in June of 2015 to give a second chance to dogs in need.
Julie was not always a fan of dogs until she got one of her own. Now she loves spending her free time helping them in any way possible. Julie received her Bachelors of Science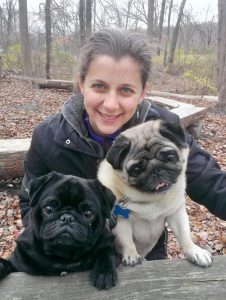 in Art Education from Kutztown University in 2006. Continuing her love of learning, she received a Masters of Science in Education from Walden University in 2009, a Masters of Arts in Art Education from Boston University in 2011, and an administrative certificate from Penn State in 2013. Julie has taught all grade levels throughout numerous school districts in Pennsylvania including Bucks, Chester, and Montgomery Counties. She is currently an art teacher in Downingtown Area School District, the visual arts curriculum leader, and a leader on integrating technology.
Julie spends her spare time giving back to the community. She volunteers for Big Brothers Big Sisters. She has worked with the community on numerous art themed projects. She painted a mural at a local library with 100 children, ran a bike rack competition in Downingtown, and ran numerous art shows throughout the district. Volunteering at shelters and educating children about the proper ways to own and care for a dog are some of her passions. Working for PA Dog Rescue is another way she can help animals have a happy and healthy life.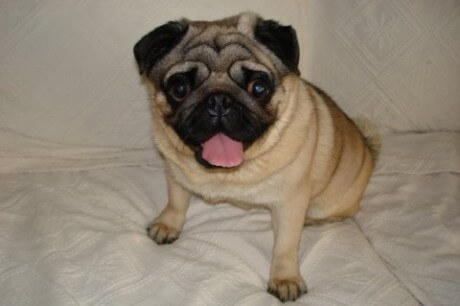 Max is another one of our furry mentors for PA Dog Rescue. Bowser and Max are brothers from another mother. Max is a male pug born in 2008 and he also did not join us until he was two years old. Max helps our rescued dogs learn appropriate play behavior in a household. He also teaches them that no matter what size you are, you are always able to be a cuddly lap dog.