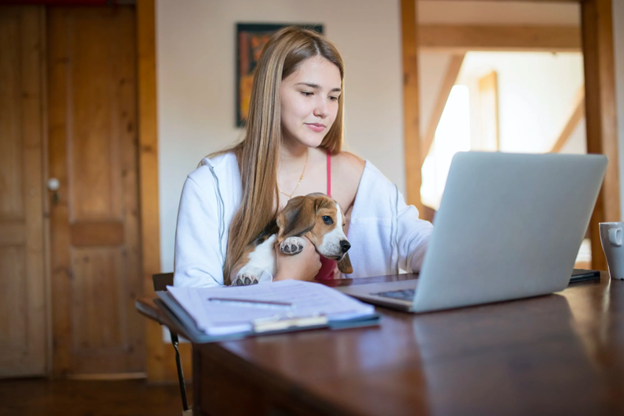 Starting a business is a momentous time in your life. However, if you are welcoming a new pet into your home, you may struggle to find a balance between spending time with your animal and working on your company. By following these five tips from PA Dog Rescue, you can rest assured that your pet feels loved while still dedicating time to your business.
Create a Pet Space
Whether you operate from your dining room table, your bedroom, or your home office, your pet wants to spend time with you while you work. Create a special space just for your pet by your workstation. Include a bed, toys, and water bowl. Just be sure the toys are quiet if you handle company calls throughout the day. Make sure your pet's space is away from any dangling cables or other dangerous or treasured objects he or she may want to chew.
Employ a Trainer
Maybe you adopted a dog who has some frustrating habits you want to correct. Maybe you purchased a puppy and want to teach him or her how to behave inside and outside the house. Hiring a trainer can be immensely helpful for teaching your precious pooch tricks, habits, and social behaviors. 
Ask your friends if they know of any reputable trainers, or search online and read the trainer's reviews. Depending on the company, you can travel to the trainer for class lessons, private lessons, or have a trainer come to your house.
Take Regular Walks
While your pet loves cozying up with you while you work, he or she needs regular activity to stay healthy. Regular walks are a great way to do this. If the weather is hot during the day, plan walks in the morning or evening when it is cooler. If you have a pooch, find a local dog park to visit. Not only is your dog free to run around but he or she can also learn social skills.
Hire Assistance at Work
Having help at work can take some of the tasks off your plate and free up more time for your pet. Hire an assistant or find a third-party company to take the lead on some projects, such as marketing or managing your website.
If you have someone helping you with accounts receivable and billing, be sure to choose invoicing software to help facilitate their work. Good invoicing software can help your business get paid faster by instantly delivering paperless invoices digitally to your customers. Then they can pay online, ensuring that funds are available as fast as possible.
Another great example of help you can find is a formation service. Like many business owners, you may be considering forming a limited liability company. An LLC has numerous advantages, such as increased flexibility, less paperwork, limited liability, and tax benefits. Instead of handling the application process yourself, save time by hiring a formation service. Just remember, each state has different regulations for forming an LLC, so research your state's rules before moving forward.
You can also utilize some free online tools. Marketing your business on social media can dramatically impact your bottom line. Another way you can save money is by using a free design tool to make a logo quickly online. This way you won't have to pay for professional design services. You can choose a template, then customize the colors, text, and graphics. Once it's complete you can download it for use.
Invest in Toys
No matter what kind of creature you have, toys are a fantastic way to keep him or her occupied while you work. Head to the pet store and purchase some squeaky, bouncy, fuzzy, or rubbery toys for your pet.
If you really want to spoil your animal, sign up for a pet box service. Sign up for a service like this and your pets get goodies mailed to them on a regular basis.
Whether you are still building the foundations of your company or ready to open your doors, having a new fuzzy member of the family can be an adorable distraction. To make sure your pet's and business' needs are tended to, integrate these recommendations into your personal and professional practices.