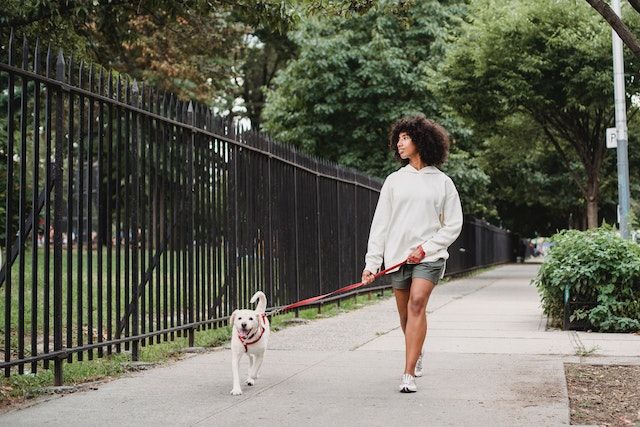 If you're like most people, your pets are considered family members. As a result, the requirements of your dog and the rest of your family will naturally be considered if you are a dog owner seeking to buy a new house and move to Pennsylvania. However, not just the home you are buying should be dog-friendly. The neighborhood should also be "pet-friendly" as much as possible. But what to look for? What are the signs that the community you like suits you and your furry friend's needs? To help you answer these questions, we compiled a list of things to look for in a dog-friendly neighborhood. So, keep reading to learn how to tell you found the perfect home for you and your pet.
Other dogs
Other dogs may be the best sign of a canine-friendly neighborhood. Therefore, early in the morning, inspect the area you like. You'll blend in with your dog if you observe joyful owners walking their happy pets. In addition to the quantity, consider the breeds and the general health of the dogs you encounter. A diverse mix of breeds in a community generally appeals to dog lovers. Moreover, you can expect an abundance of playdates if you see happy, healthy dogs with a naturally balanced disposition in the neighborhood.
Pet-friendly rentals
If you're considering renting, seeing which areas have more pet-friendly rental possibilities is a good idea. Although it's possible to determine how pet-friendly a neighborhood is by how many pets reside there, this doesn't always indicate that many rental homes allow dogs. Therefore, before settling on a specific rental property, it's a good idea to conduct your research because the availability of pet-friendly rentals might vary significantly from one neighborhood to the next.
As a result, use the pet-friendly filter on property sites to start your online search for popular dog-friendly locations. Alternatively, you may begin your search by making a shortlist of places that, according to statistics, have more rental homes that accept pets. Then you can investigate those particular areas in more detail, and you will indeed find your new home.
Garbage cans
It's not ideal to empty your dog's waste bag into your neighbor's trash can if you live in a suburb. Yet, if you live in a city, frequent trash cans give you and your dog a more enjoyable stroll that doesn't involve carrying "goodies" home. Therefore, you know you've struck gold if you find a doggie station equipped with a trash can, disposable bags, and other conveniences.
Dog parks
One of the essential things to look for in a dog-friendly neighborhood is dog parks. A local dog park is an excellent facility for happy and content dogs and owners. However, not all dog parks are the same. Therefore, take a look around the park and write a few notes. Is that an abandoned dirt area, and is there enough room for dogs to run about and consume their energy? Are the park's perimeter fences well-built? Are there garbage cans and watering areas? You are golden if it appears to be a beautiful green space maintained and visited by happy canines and responsible owners.
Walkable sidewalks
While looking for a home, this aspect is simple to ignore. But if you have a dog, you know how difficult it is to take regular walks when you don't have broad pathways. Walking outside is much more enjoyable when there aren't any tricky obstacles to cross, like uneven or nonexistent sidewalks. Therefore, look for neighborhoods with wide sidewalks that give you and your pet plenty of space to enjoy a leisurely walk.
At the same time, if you find such a neighborhood with excellent sidewalks in Chester county, PA, hire local movers to help you relocate there. When you reach out to moving experts, your relocation with a pet becomes a breeze, and you can start enjoying your walks with your best friend sooner than you hoped.
Transportation options
You might not consider including public transportation in your search if you usually drive everywhere. Yet, in a city, pet-friendly travel might entail day visits to local beaches, farmer's markets, breed gatherings, and more. For guidelines and regulations, see your local transit authority. Several cities accept any dog that can fit in a bag or carrier to ride the metro, leading some owners of big-breed dogs to get quite inventive.
Pet-friendly businesses in the area
Another thing to look for in a dog-friendly neighborhood is how local businesses approach dogs and dog owners. Therefore, ask about their pet policies by giving them a call or stopping by a few of the nearby shops, eateries, or coffee shops. It's a positive indicator if you see dogs relaxing on restaurant patios as their human family members dine or have lunch nearby. It's also a good indicator if you see pet goodies at the local bakery or brewery counter. These things will make life better for you and your pet and help make your new area feel like home. Outdoor performances, festivals, and other pet-related social activities are another big plus in a thriving dog-loving neighborhood.
Pet amenities
You shouldn't have to go across town to find all the amenities you need to care for your best friend. Therefore, look for the signs that show you that an area is welcoming dogs. A pet shop or a store with a decent assortment of pet supplies should be nearby. Not to mention a nearby veterinarian that is necessary for your dog's health if they need surgeries or vaccinations. A neighboring animal shelter is also a reliable sign of pet friendliness. And a facility where you can board your dog or put it in doggie daycare is also very welcome.
Final words
If you are considering relocating with your pet, these are some things to look for in a dog-friendly neighborhood. And if you are lucky enough to find them all in one place, you hit the jackpot. You can be sure that you and your best friend will have the time of your lives for as long as you live there.
Image used: https://www.pexels.com/photo/a-girl-with-afro-hair-walking-on-pathway-with-her-dog-5255595/