PA Dog Rescue supplies food for dog shelters and provides help rehoming dogs. Contact us today to learn more!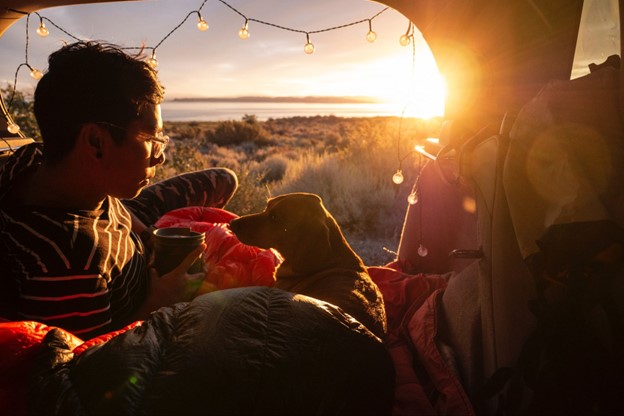 There's no better travel companion than your best friend – your furry best friend! You want to be with your dog, and she wants to be with you, so why not take her camping? She'll love the sights and smells, and you'll love the experiences you'll have together. Just take some precautions to keep him safe. Read on for some tips from PA Dog Rescue.
Plan Ahead
Do some research before you pack the car and head to the mountains, beach, or desert. A little planning will go a long way in making a great human/canine adventure.
Start by finding campsites that are truly dog friendly.
Research the weather conditions where you will be camping. If the weather will be hot, learn how to identify heat stroke in your dog and cool them down. If the weather will be cold, learn how to keep your pooch warm.
For travel, a kibble dog food is most convenient. Not only does it have a longer shelf life than opened canned dog food, there's no need to dispose of empty containers – just be sure there's plenty packed for the excursion.
Learn about wildlife common to where you plan to camp, so that you can be prepared, especially when it comes to food storage. Bears are especially notorious for ransacking campsites with poor food storage, and dog food counts!
Regardless of the weather, your dog will need some basic camping gear of their own. See some commonly packed items for human/canine camping expeditions.
Always be prepared with both human and dog-friendly first aid kits. Dogs can get injured just like you, but the supplies you'll need to patch them up will differ from your own.
Stay Safe
You've planned, and your trip is fast approaching, but do you feel ready to care for your dog's health and safety needs out in the wild? Review some tips before your adventure begins.
You've packed your dog's first aid kit, but it's important to know how to address small wounds and when to know it's time for a trip to the vet.
There are plenty of pests no matter where you choose to pitch your tent. If your pup ends up with ticks, follow these guidelines to remove them
A collar and leash work fine in the city, but a harness can allow you extra control over your dog. Many even have handles on the back, which make it easier to lift your dog out of difficult situations.
You and your dog need the safety of a working car to get you to and from your camping destination, so be sure to follow some precautions when parking during your trip. Break ins are common during traveling, but there are ways to make your vehicle less of a target.
With a little preparation, you and your dog will hit the trails, swim in lakes, and take in gorgeous views. He can rest in a hammock with you or just keep watch next to you. Regardless of what you do, you'll be together and it will be an experience you'll never forget.